The Brain Evolution System
Review and Killer Bonus:
There is a lot of hype around The Brain Evolution System in the brainwave entrainment and binaural beat circle. In this review, I will try to explain what you really want to know:
What exactly is The Brain Evolution System, and does it work?
First, let's start with what this program is supposed to do…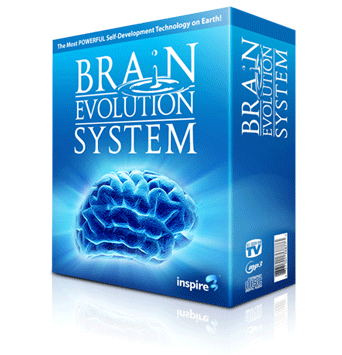 This program promises to help you:
release stress
boost your relaxation levels
sharpen your brain
improve your mood
increase your energy
They promise to do all of this by simply listening to a 30 minute brain entrainment track 6 days a week for 6 months.
It's a six-level audio meditation program with each level lasting one month. Each recording uses special sounds that progressively help influence your brainwave patterns and change how your brain functions.
If you are not familiar with brainwave entrainment, check out some of my other articles on this website. Start here.
Why would you use this program?
In the self-development world, everybody knows that meditation is good. It can bring hundreds of untold benefits. Yet, for most of us, getting into a real meditative state can be extremely difficult. The Brain Evolution System, or BrainEv for short, uses brainwave entrainment to help you skip years of practicing meditation and get right into reaping the benefits of being a master of your mind. It uses specially manipulated sounds to help influence brainwaves, putting the mind into a deep state of meditation within minutes of listening.
What makes BrainEv different from regular binaural beats?
The Brain Evolution System uses a 3 Point Dynamic Entrainment Audio Process. This means it uses three different entrainment methods at the same time, stopping the brain from getting too accustomed to one particular pattern, and more closer to matching how brainwaves actually work naturally.
This was quite appealing to me because I know how frustrating it can be when you can stop having the same effects after listening to the same binaural beat or isochronic tone several times over the course of a few weeks. Michael Kelly, the creator, is quite the genius!
So now for the real question… Does the Brain Evolution System really live up to its claims?
Well, I just finished going through the entire 6 month program as laid out in the user manual provided with the program and here is an overview of my experience.
My Experience with The brain Evolution System
To begin, I ordered the entire package from the official website. Now, before even using the program, I was impressed at the integrity of the company. I was immediately given a free 21-day trial of level one, with an option to cancel before I was billed a single cent. They will also send a free demo mp3 of the system. You can get yours at the official website by clicking the link below.
So, I tried it out… and I kept a journal along the way.

Month 1: Transcendence
The first level, called Transcendence, is a powerful and relaxing way to start the program. This one will get you hooked. It can only be described as a true sound-scape with a natural, "distant" ethereal feel, you can tell a there are a ton of things going on in the background yet you can't help but just relax and let them float by.
I've listened to a lot of brain entrainment mp3's, relaxation music, binaural beats, and isochronic tones so I'm used to trickling waterfalls and singing bowls and a lot of other different sounds. But this audio was genuinely POWERFUL. You can feel it working, influencing your brainwaves, and helping you to relax further.
There is a point where I could actually feel my brain synchronizing and it felt like my brain was actually coming alive for the first time. It is really hard to describe how it feels. It is a rush of relaxation, optimism, peace, hope, and accomplishment all at the same time! Truly remarkable!
After my first listening session, I instantly felt more relaxed. My head was less cluttered and I enjoyed a focus and clarity I'd not experienced in quite some time. It's hard to explain, however I had a smile on my face and didn't really know why!
Month 1 improvements:
The most significant improvement was only having to sleep for 5 hours and feeling fully rested… Actually I had more energy than when I was getting 8 hours of sleep!
More relaxed and calm all day long
My brain started to be able to process info faster
Confidence really improved
Started having more positive interactions with coworkers
Could express myself a little more clearly
Month 1 problems:
It was hard to get into the routine of listening every single day
Some trouble staying awake for the full track
Month 2: Lucid Echos
Lucid Echos is designed with more distractions on top of the relaxing sounds so your brain has to work a little bit harder to relax. Remember, the BrainEv program is supposed to be a workout for the brain.
It was harder to get into this cd. I started to get frustrated after the first week of listening because I was not feeling the same kind of benefits that I was getting form the first month's recording.
Luckily The Brain Evolution System has a training video for every new cd and a member forum for anyone who is going through the program. These two really helped me get over the hurdle of starting the second disk. While going through the member forum, I found that many other people had the same problem. Through all of the support that is provided through their website, I was able to get over the hurdle of starting the new disk and I really feel like my brain got a work out from the second month of BrainEv.
Month 2 improvements:
I could deal with background noises and distractions better
Level of focus improved
I was thankful for the forum at this point
Month 2 problems:
Caused me to be easily annoyed for the first week
Not very pleasant to listen to until you get used to it
Month 3: Infinity
The third month is called Infinity and incorporates an ocean wave soundscape. This CD is much easier to listen to than month 2 and uses a much wider range of brainwave entrainment frequencies to stretch the brain's ability to find focus.
Initially this one is easier to listen to because there are less obvious distractions, but but I did not feel the deep state of relaxation right away like I did with the first CD. This is because of the different frequencies that are going on at the same time. After a few listen's however, my brain began to develop the ability entrain to the lower frequencies.
Month 3 improvements:
Developed deeper levels of focus and concentration
Started to have more vivid dreams and I could remember more of each dream
Month 3 problems:
This month also took a while to feel the benefits from (it took my brain a while to recognize and sync up with the lower frequencies because they are all mixed on this one)
Month 4: Crystal Rain
Month four is called Crystal Rain. This disc is awesome! By design, it is one of the easier to listen to and meant to be a reward for the brain workouts in month 2 and 3.
This month is when I really started noticing a big difference in my meditation practice. I felt like I was able to enter into deeper levels of consciousness. Because of this, I was enjoying higher levels of happiness in my everyday life.
Month 4 improvements:
Overall happiness level shot up
Helped to reach deep, productive meditative state
Month 4 problems:
It was hard no to fall asleep during this month's sessions because the frequencies go quite low
Month 5: Neptune's Cave

Disc 5 is called Neptune's Cave. This one starts to combine some of the sounds found on the other discs and is designed to draw you deep into your subconscious, or "source", as Michael Kelly likes to call it. Improved intuition is the goal for this month.
The entrainment frequencies on this CD go down to the delta level which is lowest rage frequency for the brain. Because
of this, it was hard not to get so relaxed that I would fall asleep. Infact, I never could listen to this one all the way through without having at least a short period of time where I was unconscious or asleep.
I am not sure I got much out of this month's training, except for maybe being able to reach deeper levels of sleep.
Month 6: Fusion

This month is called Fusion and it is exactly as the name describes. This last month's recording combines a fuses bit of all of all of recordings together. It gives the brain a full range workout passing through each month's soundscape in one trip of a recording. It is amazing the things that come to mind while listening to this one.
Month 6 improvements:
I could really feel how all of the recordings had improved my overall brain function while listening to this one
Meditating to this mp3 is a really fun ride with a lot of ups and downs (great experience after using a of the other mp3's)
Month 6 problems:
Overall one of the biggest problems that I faced wit this program was the level of time commitment to really do the program. There were a few days that I would skip just because I got too busy or forgot. However, I always felt better when I would come back and listen. You really can feel the difference of your brain improving.
Here is what some other people are saying about Brain Ev
"It's helped me sleep better and keep me focused on the goals I've been wanting to achieve."
-Jeremy
"I have lost the feelings of anxiety."
-Ken
"I haven't had to take a Xanax for anxiety or stress since I started listening!"
-Jack
"I no longer feel tired and lethargic. It's as though my batteries have been fully recharged. I already feel better, more energetic, and more relaxed in myself."
-Tony
Final Verdict:
Does the Brain Evolution System work?
Yes! Over the past six months, Brain Ev has delivered an impressive set of results for me. All exactly as promised. It helped sharpen my mind, reduce my stress levels, and increase my energy with less sleep. Getting less sleep and having more energy has been the most impressive result so far!
I've tried meditation programs and brainwave
entrainment products before (a lot of them), but never with the powerful results that the Brain Evolution System provided. I am really excited to get to the next level to see how much more my brain can improve!
The developers claim that's due to the fact that it utilizes a "3 Point Dynamic Entrainment Audio Process" to influence brainwaves. They provide a series of graphics and video features to explain it all in greater detail. There are also online support videos for each progressive level and an online support forum which were very helpful through the whole process. You are really missing out if you don't give this one a try.
Check out my brain EV bonus membership to OmMorphics here!
Click here to go to the official Brain Evolution System website>>>
Click here for the FREE BrainEv Demo>>>
This post was written by Shawn Ryan. Click here to learn more about me>>>